Randy Gaugler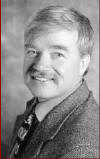 Professor of Entomology, Cook College, Rutgers University.
Randy Gaugler earned his B.S. in entomology from North Dakota State University, his MS from North Carolina State University and his PhD from the University of Wisconsin. He joined the faculty at Rutgers University in1982.
Gaugler is an expert in insect pathology, particularly in the use of nematodes as biocontrol agents of insects. He has developed molecular methods for the genetic improvement of
entomopathogenic nematodes.
Gaugler is author of more than 180 refereed journal articles, as well as three books.
His work has resulted in patents, licensing agreements and bioinsecticidal products that currently are used internationally.
He is a Fellow of the American Association for the Advancement of Science a and the Entomological Society of America.
He is a 2006 recipient of Albert Einstein Professorship of the Chinese Academy of
Sciences.
Source: Nematology Newsletter, Dec. 2005