Obituary Juan Heyns 26 April 1929 – 21 December 2001
Obituary by Esther Van den Berg ARC-Plant Protection Research Institute, South Africa. Published in African Plant Protection 7:117-118.
Juan Heyns was born on 26 April 1929 in Humansdorp in the Eastern Cape Province, South Africa.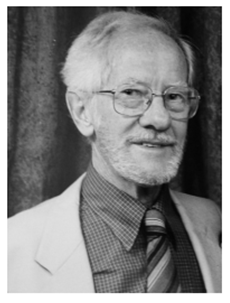 He matriculated at Humansdorp High School in 1946 with five distinctions, obtaining the secondhighest marks in the former Cape Province. His tertiary education culminated in outstanding achievements. At the Stellenbosch University he graduated with a BA (cum laude) and a BSc (Agric.) (cum laude) and at the University of Pretoria with an MSc (Agric.) (cum laude). In 1954 he began his professional career in the Department of Agriculture at the Tobacco Research Institute, as it was then known, where he carried out research in entomology and nematology, working there until the middle of 1959. After receiving a bursary from the Department of Agricultural Technical Services the same year, he undertook his doctoral studies in nematology at the University of Wisconsin, USA, under the mentorship of Prof. Gerald Thorne, completing his PhD (Agric.) at the end of 1961.
From 1962 to1970 he worked at the Plant Protection Research Institute, Pretoria, where he headed the Nematology Section. Although initially involved in applied research, he gradually spent more time on the biosystematics and taxonomy of nematodes.
In 1971 he joined the Rand Afrikaans University, first as senior lecturer and then as professor. During this time he also lectured in a temporary capacity at various nearby universities. By the time of his retirement, at the end of 1994, he had trained 25 MSc and 13 PhD students. He was external examiner and co-supervisor of numerous students that completed their honours, masters and doctoral degrees at other South African universities.
Juan can truly be regarded as the father of nematology, in particular nematode taxonomy, in South Africa, and with his first article on the new nematode genus and species Elaphonema mirabile in 1961 he started a career in nematode taxonomy equalled by few. By the end of 2000 he had published 235, mainly scientific, articles as sole author or together with students and colleagues, in which at least 520 new and known species, 27 new genera and two new families were described, mainly from southern Africa but also from at least 28 other countries in the world. At present, several more articles are in the process of being published.
He was also very active in many other aspects of science. He served on many scientific committees within and outside South Africa. He was a member of at least 13 scientific societies and on the editorial board of various scientific journals, and refereed innumerable articles. Juan was a founder member of the Nematological Society of Southern Africa and attended all 15 biennial congresses. In 1975 he organised the first short course in nematology at the Rand Afrikaans University. Through his endeavours, two specialist nematology courses were presented in 1984 in Johannesburg by Prof. A. Coomans of Belgium and Dr J. Eisenback of the USA. He attended at least 24 international nematode and plant pathology congresses where numerous talks and posters were presented together with his students and co-workers. Juan cooperated with most nematologists overseas and was instrumental in arranging visits of many prominent nematologists to South Africa.
The scientific community honoured him for his excellent work. In 1984 he received the Havenga prize from the 'SA Akademie vir Wetenskap en Kuns' and he was also rated as a class A researcher by the Foundation for Research Development (now the National Research Foundation). In 1982, 1988 and 1992 he received grants from the 'Belgiese Nasionale Fonds voor Wetenschappelik Ondersoek' to visit Belgium for three-month periods. In 1995 the University of Stellenbosch honoured him with the prestigious DSc degree in Agriculture. In 1996 he was elected Fellow of the European Society of Nematologists and in 1997 he became the first honorary member of the Nematological Society of Southern Africa.
Apart from his impressive scientific career he will also be remembered for being a humble person and for his many other interests. As an enthusiastic birder he arranged most of his official and unofficial trips around some birding experience. During the last year of his life he undertook no less than twelve trips, mainly to go bird-watching. On each of these trips he collected soil samples and we at the ARC-Plant Protection Research Institute had a constant flow of samples with instructions to look for interesting nematodes which he still planned to work on. His last trip was in October to the Okavango swamps in Botswana where he collected numerous samples. He was also an avid stamp collector and many of his colleagues exchanged stamps with him – he had built up an extensive collection with birds as the main theme. He was also a painter of some renown, and many of us own some of his beautiful paintings. This artistic disposition was also evident in his nematode drawings. He was a person who undertook all tasks with great enthusiasm. His zest for life was almost never-ending, irrespective of whether it involved travelling, painting, birding, or working on his nematodes. We as nematology students and colleagues will always appreciate the way he guided us with regard to every aspect of nematology. We will also remember his loyal friendship, his generosity and dedication, and his good humour and sharp wit. We were privileged to have known him.