From BBC News, Oct 5, 2011

The UK government is backing a new campaign to try to rid the world of guinea worm by 2015.
There were almost 2,000 cases of the debilitating parasitic disease in Africa last year.
The push to eradicate guinea worm has been led by The Carter Center - set up by the former US president, Jimmy Carter - since 1986.
The Department for International Development (DfID) is ready to donate £20m to the drive.
It's thought this will fill about a third of the funding gap. Ministers are now calling for other donors to make significant contributions.
Although it doesn't usually kill, guinea worm causes agonising pain and leaves some sufferers bed-ridden after they contract it by drinking contaminated water.
Months after drinking the water, a metre-long spaghetti-like worm emerges from the patient's body through a blister in the skin.
Perpetual cycle
The worm ejects many thousands of larvae if it comes into contact with water - perpetuating a cycle of disease.
There is no cure or vaccine, so the UK aid money will be used by the Carter Center to help train people in tracking outbreaks and using cloths to filter drinking water.
Last year, there were 1,797 cases of guinea worm in South Sudan, Ethiopia, Mali and Chad.
Nigeria, Niger and Ghana have succeeded in recent efforts to wipe out the disease.
When the Carter Center began its work on guinea worm 25 years ago, there were about 3.5m cases in 21 countries in Africa and Asia.
Mr Carter said: "Guinea worm has horrendous consequences for sufferers in terms of their immediate health, and their education and employment.
Story from BBC NEWS Dec 6, 2008:

Guinea worm 'almost eradicated'
Guinea worm disease may be eliminated within two years, former US president and anti-disease campaigner Jimmy Carter has said.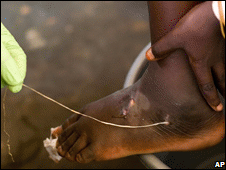 Extraction of worm from skin of patient.
It would be only the second time in human history, after smallpox, that a disease had been completely wiped out.
Mr Carter says infections of the painful debilitating disease have dropped by 99%.
Guinea worm has been found across Africa from Mali to Ethiopia with most current cases in Sudan.
Only 4,410 cases were reported worldwide during the first ten months of this year, with 80% found in Sudan.
The Carter Center, established by the former president and his wife to help fight disease and champion voting and human rights around the world, says this is a dramatic drop from the 3.5m cases in 20 nations that were reported when the eradication campaign began in 1986.
The World Health Organisation reports that Guinea worm disease is now prevalent in only 13 countries in Africa including Sudan, Nigeria, Ghana, Burkina Faso, Niger, Togo and Ivory Coast.
Eight years ago it was completely eradicated from India.
Debilitating disease
Health experts hope that next year may see the last reported cases of the parasitic illness.
Mr Carter also announced that the Bill and Melinda Gates Foundation had contributed $40m (£27m) toward the eradication effort, and the British government had pledged a further $15m (£10m).
Guinea worm occurs when people drink water contaminated with larvae.
Over a year, one or more of the larvae can grow to be a metre long.
Then they very slowly emerge through the skin, often causing searing, debilitating pain for months.
The disease is usually not fatal.
There is no vaccine or medicine for the parasite.
"It is a question of education," Craig Withers, operations director for the Carter Center, told the BBC.
"Our staff are having to wade through swamps, sometimes up to their necks, to reach remote villages in Southern Sudan."
Infection is prevented by filtering water and educating people how to avoid the disease.
Return to "In the News - 2011"