Order Rhabditida
01/28/2020
Genera include:
around 450 genera in recent classification systems, e.g. De Ley and Blaxter, 2002, 2006 Includes most of the taxa that were in the Secernentea in older classical schemes.
Rhabditina; Tylenchina; Myolaimina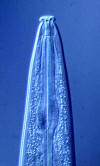 Anterior region of Cruznema tripartitum.
Abolafia, J and Pena-Santiago, R. 2007. Nematodes of the Order Rhabditida from Andalucía Oriental, Spain. The Genera Protorhabditis (Osche, 1952) Dougherty, 1953 and Diploscapter Cobb, 1913, with Description of P. spiculocrestata sp. n. and a Species Protorhabditis Key. Journal of Nematology, 39:263-274.