Family DOLICHODORIDAE
                                  								Rev 08/03/2020
Classification:
Tylenchida
Tylenchina
Tylenchoidea
Dolichodoridae (Chitwood, 1950)
Synonyms:

In a recent compilation, Geraert (2011) adopted the opinion of several taxonomists and considers the Belonolaimidae to be a subfamily (Belonolaiminae) of the Dolichodoridae.
Several families are considered junior synonyms of Dolichodoridae:
Tylenchorhynchidae

Meiodoridae
The subfamilies of the Dolichodoridae per Geraert (2011), Decreamer & Hunt (2006) and others are:
Brachydorinae

Macrotrophurinae

Meiodorinae

Merliniinae
Morphology and Anatomy:
Large, slender nematodes with cylindroid bodies.
No secondary sexual dimorphism.
Cuticle distinctly annulated, lateral field with distinct incisures.
Labial region distinctly off-set and annulated (rarely smooth).
Labial sclerotization strong, with very thick basal plate and thick arches.
Amphid apertures small slits laterally or dorso-ventrally directed.
No deirids.
Female tail rounded to hemispherical with spike-like extension, rarely elongate-conoid.
Females with two genital branches, columned uterus with four rows of cells; vagina very heavily sclerotized.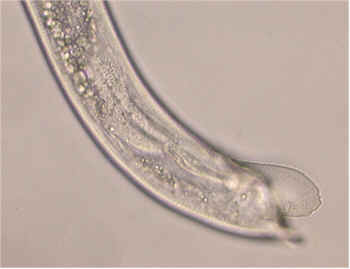 Male caudal alae wing-like and tri-lobed.
(Photomicrograph by I.A. Zasada)
Amphimictic reproduction.
Stylet well developed up to 150 µm.; cone markedly longer than shaft.
Esophagus with distinct metacorpus, short isthmus and pyriform glandular region not overlapping the intestine.
Nematodes of the Dolichodoridae are oblígate migratory ectoparasites of plant roots, those with short stylets feeding from cells in epidermal and superficial layers of the root, those with a long stylet feeding from cells in deeper tissues.
[Ref: Luc & Fortuner, Rev. Nematol. 10(2):177-181 (1987), Geraert (2011 )and H. Ferris.]
References
Decraemer, W & Hunt, D.J. 2006. Structure and classification. In: R.N. Perry & M. Moens (Eds), Plant Nematology CABI.
Gereart, E. 2011. The Dolichodoridae of the World. Identification of the family Dolichodoridae. Academia Press, Ghent 520p.
Luc & Fortuner 1987, Rev. Nematol. 10:177-181